Turkey Invades Syria
It is evident that the American retreat from Syria is a strategic and humanitarian disaster.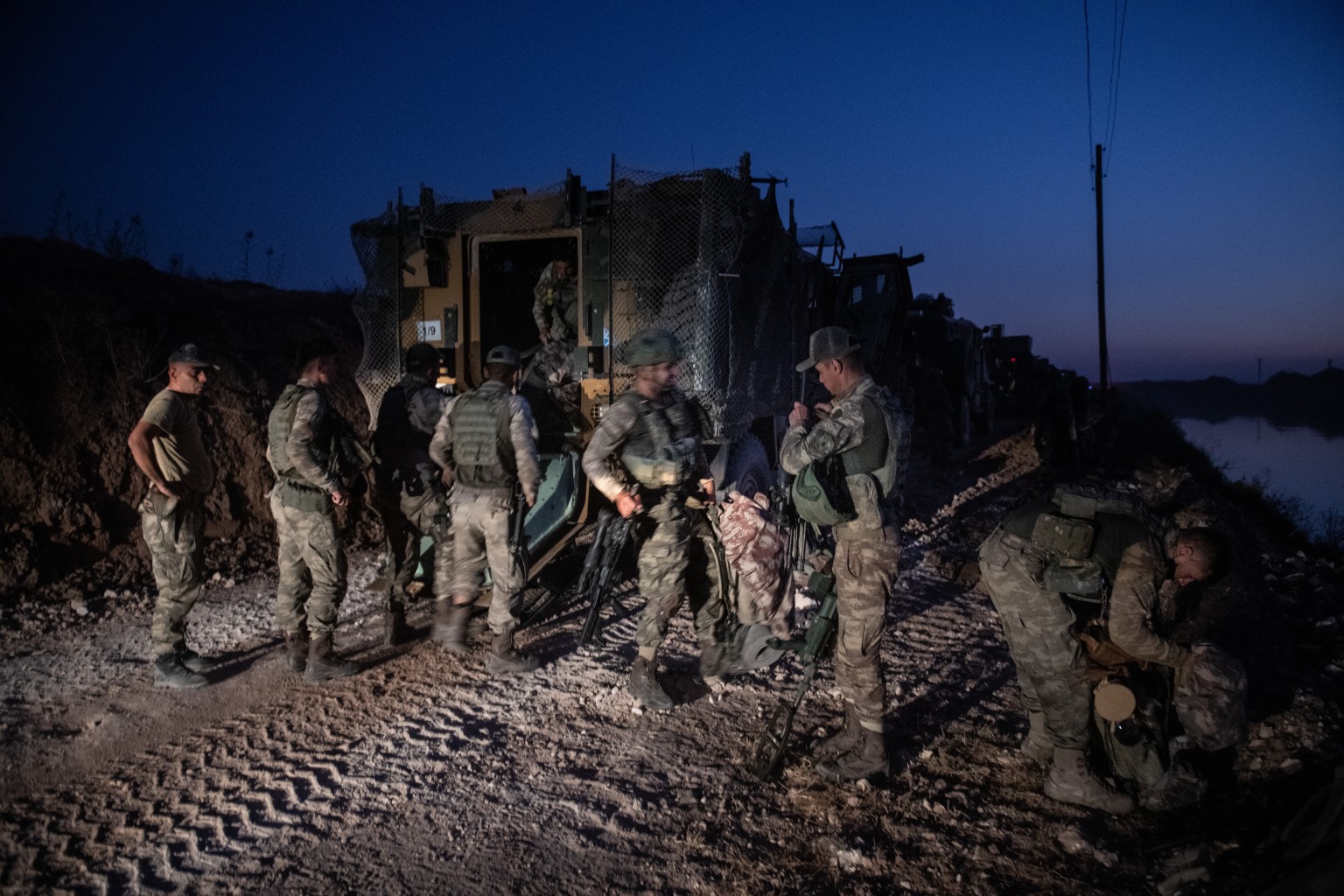 The Order
On October 6th, Turkish President Recep Tayyip Erdoğan called President Donald Trump warning of an impending invasion and stating that United States armed forces stationed in the region would be in harms way. President Trump agreed to allow Turkey's invasion. On October 9th, Kurdish forces learned from a tweet of President Trump's order to withdraw from Syria. Following the President's order, 1,000 U.S. soldiers hastily began a complete withdrawal. At the same time, Turkish airstrikes and shelling of Kurdish positions began. President Trump made false statements about the U.S. presence in Syria to sell and downplay his retreat order. The decision left allied Kurds at the mercy of Turkish forces. The Kurds were a longtime U.S. ally throughout the conflict in Syria where they had worked alongside American soldiers and special forces to defeat ISIS cells in Kurdish lands. They were also responsible for guarding more than 10,000 IS prisoners. Before joining the fight against ISIS, Kurdish soldiers had assisted American troops during the war in Iraq.
Turkish Offensive Begins
On October 10th, just one day after U.S. forces began evacuating, Turkish soldiers marched into Syria. It was well known that Turkey had been eyeing an invasion of Kurdish lands along their border with Syria for at least several months. President Trump's consenting to withdraw U.S. forces opened the door for the immediate Turkish offensive. The invasion has included the shelling of U.S. Navy SEALs at a forward operating base and has become an evident slaughter of Kurdish soldiers and civilians. U.S. forces evacuated so quickly that they were forced to bomb the bases they had occupied days before as they became surrounded by Russian and Turkish forces.
The World Reacts
As news of the invasion came out of northeastern Syria, Germany, the UK, France, and finally the entire EU halted weapon exports to Turkey on October 14th, imposed sanctions, and publicly denounced the invasion. Kurdish soliders, under assult and outgunned, could no longer focus on guarding ISIS prisoners, resulting in hundreds of escapes. The U.S. began attempting to retake control of the spiraling situation precipited by the order to retreat.
Attempts to Reverse the Retreat
On October 10th, President Erdoğan threatened Europe with an influx of millions of Syrian refugees. On October 12th, he announced that Turkey 'will not stop' the invasion as promised. Following his retreat order, President Trump had made several thinly veiled threats of economic 'destruction', but the Turkish army continued to expand their offensive, exceeding stated goals. After several attempts to stop the invasion made possible by his own hand, President Trump ordered sanctions on Turkish metal exports on October 14th, to no effect (the Lira actually rose on currency markets). On October 16th, President Erdoğan threw away a letter in which President Trump demanded he halt the invasion. It was becoming clear that the U.S. could not effect the situation. The following day, President Trump urged that Europe should 'take the ISIS fighters that came from their nations', and that it 'should have been done after WE captured them'. As of Friday the 18th, only U.S. special forces remained in Syria.
U.S. Weapons in Turkey
In July 2019, President Donald Trump cancelled the sale of 5th generation F-35 fighter jets to the Turkish military after Turkey purchased Russian S-400 missiles and other weaponry. During one of his attempts to stop the invasion, President Trump offered to once again sell Turkey F-35s, putting the planes' technology at risk of falling into Russian hands. U.S. weapon exports account for 60% of Turkey's supply and currently total 364 war planes and 2,400 tanks. A bill to ban the weapon exports to Turkey was introduced to Congress by Liz Cheney (R-WY) on October 16th.
President Trump and an official airbase website confirmed the presence of U.S. nuclear weapons in the Turkish city of Adana, home to 1.7 million people. An estimated 50 B61 gravity bombs, a configurable yield themonuclear weapon first deployed during the Cold War, are kept at a U.S. airbase 10km from the city center. As of Friday, the base and weapons stored there remained under U.S. control.
Ceasefire Failure
President Trump had previously praised Erdoğan numerous times during his Presidency. In the midst of the invasion, President Trump replied on Twitter to the Turkish president's seemingly baseless statements about jointly defeating terrorism. On October 17th, Mike Pence announced that Turkey had agreed to a five-day cease fire to allow the Kurds to evacuate. More than 275,000 Kurds have been displaced and are attempting to leave the war zone that swept up their towns in days. President Trump stated Erdoğan 'wanted' the ceasefire. The Turkish ambassador was quick to dismiss this claim as false and they continued to shell Kurdish civilians.
The Response At Home
In the U.S., the number of lawmakers openly objecting to President Trump's decision to leave Syria steadily increased. Even longtime political allies publicly stated it was a mistake and that the President was unfit for office. Senators and Representatives from both sides of the isle denounced the retreat as a disaster. 129 Republicans and every democrat in the House signed a resolution opposing the withdrawal. According to multiple current and former U.S. officials, the White House's announcement Sunday blindsided not just America's Kurdish allies but almost everyone — senior officials at the Pentagon, the State Department and the White House, lawmakers on Capitol Hill, and U.S. allies in Europe and the Middle East. The media condemned the [decision] alongside diplomats and former cabinet members.
Those usually most reluctant to criticize the Commander in Chief also condemned the decision. Members of U.S. high command and soldiers up and down the ranks have become increasing alarmed by President Trump's military decisions. The stunning speed of the withdrawal shook the military community. James Mattis, the previous Defense Secretary, resigned after President Trump's partial withdrawal from Syria in November. He was immediately critical of President Trump's full retreat.
ISIS Regains Strength
The intelligence community has confirmed that the U.S. departure from Iraq in 2011 led to the rise of ISIS. As of Friday, the Kurdish coalition announced that more than 859 of the 10,000 ISIS prisoners in Syria escaped as their Kurdish captors were overwhelmed by the Turkish offensive. Trump made the wild claim that the Kurds were deliberately freeing ISIS prisoners. The U.S. departure has undone years of work rooting out what remains of ISIS.
Putin Crowned King
The Russian military has lurked in Syria for several years after the current regime requested their help in fighting rebel groups from a 2016 coup attempt. President Trump ignored advisers-a tendency he had previously displayed-on exit options that would prevent Russian takeover of U.S. positions. In February 2018, a base was attacked and U.S. forces there killed several hundred former Russian soldiers acting as mercenaries. On Wednesday, videos of Russians in US bases emerged. President Vladimir Putin has long detested U.S. presence in Syria and President Trump's decision was a massive strategic gift. The Wall Street Journal declared Putin the new 'king' of Syria. With Trump's explicit blessing, the Kurds turned to Russia for help. During an October 12th interview, President Putin stated that all illegitimate forces in Syria must leave, a message likely aimed at the U.S. forces still withdrawing. On October 16th, Russia-backed Syrian leader Bashar Assad began deploying Syrian Arab Army troops, complete with embedded Russian forces, to defend the Kurds from the Turkish offensive.
The Russia Connection
President Trump's seemingly spontaneous decision to pull out of Syria following his call with the Turkish President has become a resounding victory for Russia and ISIS. In less than one week after President Trump's announcement, Vladimir Putin can declare a true victory-not just a victory by proxy-in Syria. News from Syria has also supplanted coverage of the ever growing the Ukraine Scandal, in which President Trump requested China, Russia, and Ukraine investigate his political opponent, former Vice President Joe Biden. This fits with Trump's past efforts to solicit foreign interference in U.S. democracy. The President's chief of staff, Mick Mulvaney, confirmed in a press conference that Trump withheld $391 million in military aid to meant to help Ukraine fight against Russian seperatists. He used the aid, in the form of taxpayer bought Javelin missles, to demand Ukraine announce an investigation of Biden's son and the former Vice President himself.
This week, Trump's actions to press Ukraine into investigating Biden reappeared. President Trump's personal lawyer, Rudolph Giuliani, was found to have worked closely with Russian-financed Ukranians taken into U.S. custody and charged with illegally funneling foreign money into a political action committee supporting President Donald Trump's reelection. The administration has failed to appoint members to the Federal Election Commission, which stated after the arrest that they could no longer effectively enforce rules. Gordon Sondland, E.U. envoy testified that Trump had entirely delegated Ukraine policy to Giuliani. President Trump's 2016 admission that his tower project in Instanbul was 'a little conflict of interest' also reentered the news.
The unmitigated disaster in Syria is very convenient for President Putin as well as President Trump.